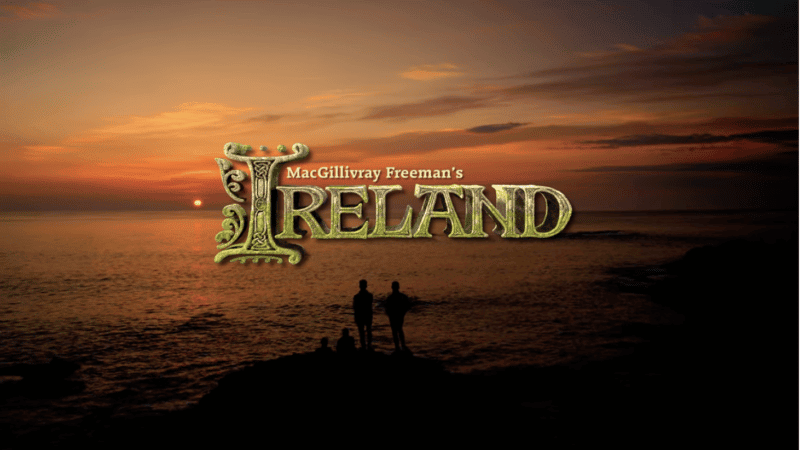 In February, Tourism Ireland is teaming up with a new IMAX documentary on Ireland to welcome travelers after the enduring travel crisis caused by the Covid-19 pandemic. But securing the partnership's success took more than Irish luck, it took a sophisticated blend of integrated marketing and data management.
Launch Ireland on IMAX
"From a tourist point of view [the film] is a great opportunity with great cinematography just to showcase the natural beauty and authenticity of Ireland, "said Alison Metcalfe, Executive Vice President North America and Australia / New Zealand of Tourism Ireland. The organization is a presenting partner for the release of the documentary IMAX, Ireland, which features Liam Neeson as narrator and is produced and distributed by MacGillivray Freeman Films (MFF), known for making IMAX documentaries like Everest and To the arctic. "The IMAX movie is obviously the centerpiece, and we're working with MFF to put together a whole promotional campaign that will run for most of next year."
She added, "As different components are released and the film gains momentum, there will be advertising, social media and digital campaigns – lots of moving parts and a marketing campaign entirely. integrated around that. "
In addition to the captivating scenes of Ireland on 70mm film, Ireland The film, directed by Greg MacGillivray, also includes a premise that dovetails well with an integrated travel campaign. The film follows writer Manachan Magan and violinist Patricia Treacey as they discover cultural landmarks and connect people of Irish descent around the world with their homeland. Four itinerant teenagers are also in the cast.
"Ireland for our company and our family has always been a place we wanted to make a movie about," said Shaun MacGillivray, producer of Ireland and the president of the MFF. "We've made films all over the world, but we've never done a film about Ireland, that's history, and it had never been done in IMAX before. It seemed like an incredible subject.
The film wrapped up filming in 2020 just before the pandemic became mainstream. With the border closures on St. Patrick's Day in March, travel was put on hold and Tourism Ireland had to change its message to travelers while remaining in their minds as a destination of choice once things reopened.
Retooling a marketing strategy during the takeover
In March 2020, Tourism Ireland suspended advertising in paid media.
"At that point, people didn't know how long this was going to last," said Metcalfe. "In April, we decided that we needed to find a way to keep in touch with our potential audiences at the consumer level, but also to keep in touch with our industry partners, including airlines, tourism and airlines. media partners. "
They launched a global social media campaign amplified by their partners, as well as paid social ads. It revolved around nine different content groups or "passion points" to "keep people warm about Ireland," Metcalfe explained.
Over a year later, in May 2021, Tourism Ireland went into 'reinsurance mode' again by promising travelers that Ireland would soon be open again now that travel restrictions were loosening in other markets. .
"It was not appropriate to talk about a 'book now' message at this point, but when the borders opened for international travelers and Americans vaccinated on July 19, we got into a more proactive message – it Now is the time to start planning that trip, "she said.
They launched the global "Green Button" campaign to officially resume welcoming foreign visitors.
The promotion around the IMAX release falls into the category of brand partnerships, one of Tourism Ireland's most important. It is part of the main "Green Button" campaign to connect with new "curious cultural" travelers.
Invest in marketing technology
"Over the past three or four years, we've made significant investments in our technology, our capabilities and our marketing infrastructure," said Metcalfe. "Tourism Ireland aims to be the world leader in digital destination marketing. During the pandemic, we continued to invest to have the best digital relationship with consumers. "
Keeping their customers' data on a data management platform ensures that Tourism Ireland's communications with travelers are personalized and retarget pools of interested prospects with relevant content.
"We've seen a really good engagement from the current campaign, so it's just about being more data-driven, and also getting to the point where we can identify that sense of presence and attract people across multiple points of contact, and continue to engage when they actually arrive in Ireland, "said Metcalfe.
She added that they now have a dashboard that gives marketers in offices around the world real-time access to see what digital engagement is working on. Digital and offline media are also managed in partnership with Tourism Ireland's media agency, OMD.
Cinematic art supported by small screen content
With a data infrastructure in place to respond to the opening up of the world, Tourism Ireland intends to make more use of the new film Ireland.
"By following a writer in Ireland in the film, you get a feel for the past, as well as the present," Metcalfe said.
For social and other digital media, the focus on disseminating Ireland the film will focus on the passion points of music, gastronomy, literature and history that primarily digital travelers will want to know more about. Media partners are part of the plan, as are influencers.
The new social media strategy includes producing social assets first, as well as producing assets with specific work in mind, and integrating that into the customer journey. In television, local linear television purchases in major markets are taken care of by CTV because people cut the cords, Metcalfe said.
"When we go out and film these amazing projects, we capture a lot of content," MacGillivray said. "We are able to tell, of course, this flagship story that is being shown on this giant screen in science centers and IMAX theaters around the world. But we're also able to create small-sized content for specific digital platforms, which gets people excited not only for the movie, but also for these amazing places we go.
"We're looking to develop how we can bring history to life," said Metcalfe. "Particularly during the pandemic and the recovery: seeing is believing."