Italy was partly destroyed by the bombs of war and the students saw many signs of the suffering of the people. They met Pope Pius XII in his summer palace. At Propaganda Fide College, studies began under the guidance of expert lecturers, with students from 26 different countries. Once again, Connolly took the opportunity to learn about music, especially plainsong and Renaissance polyphony.
During 1949 he began to have doubts about his vocation to the priesthood, and the following year, only a few months before ordination, he told the rector of the college that he believed himself unfit for it. The rector was "kindness itself," he says, and he returned home soon after, feeling deep sadness as he said goodbye to many friends. One he saw repeatedly was John Molony, who became a history professor at ANU and remained a friend for 67 years.
In "the world", Connolly got a job as a proofreader for The Catholic weekly, and saw the wisdom of the advice that he should study for an arts degree at the University of Sydney. Thus, from 1952, he worked during the day and studied at night.
In 1955 he was introduced to poet James McAuley by Father Ted Kennedy of Ryde Parish, where the pair lived. They became good friends and collaborated on the writing of hymns, published under Hymns for the Year of Grace. Later Connolly wrote "It seemed to me that most of the tunes I composed in this collection were strangely not mine – so almost did the words seem to clothe themselves in music".
In the crypt of Sainte-Marie Cathedral, in 1961, he held the title role in Daniel's room, a morality piece sung in Latin, with a large cast. It was a huge success, televised by the ABC, and often remembered by Connolly and others who took part in it.
He joined the ABC in 1956, focusing first on religious broadcasts, then on education, and in 1967 was appointed to radio drama and feature films, soon after becoming editor. I joined the department in 1971, shortly after Connolly's wife-turned-virtual assistant, Julie-Anne Ford.
Connolly was appointed director in 1973. Network director Arthur Wyndham found during a visit to France that in the arts at Radio France the idea of ​​programming in fixed slots had been abandoned for the benefit of an entire evening of cultural radio. He persuaded Connolly and his little production team – Ford and me – to do something similar here.
Thus was born Sunday Night Radio Two, the site of a wide range of programs on literature, history, music and art. For years, the show ran from 7:30 p.m. to 11 p.m. We attracted many splendid writers and musicians to contribute to this long evening, where just about anything of sufficient quality could be placed.
Connolly was in his element. For the first broadcast in March 1973, he wrote and produced The Wild Irish Harpistbroadcast with a lecture on violence in Northern Ireland, and music by the Chieftains and John Field.
Loading
Later he produced a program on the Old English epic poem Beowulf, read by Wynn Roberts, arranged and narrated by scholar Michael Alexander of Stirling, Scotland, who became a great friend of Connolly. Then there was a series on Virgil Aeneidlasting several weeks, presented by an eminent scholar of Virgil.
Connolly was by nature a cultural conservative, but his time as a radio drama and feature director is notable for the number of producers he brought in who didn't fit that mold at all.
At Connolly's requiem in St Mary's Cathedral, a eulogy by his eldest son Christopher, writing from France, rejoiced that his father associated the rugby-mad Magpie fan with the erudite musician.
I remember Connolly saying "children keep you young" – and the ancient Romans didn't make him look old. Our colleague Julie-Anne said after a lunch with him: "It's so good to be with a really educated person.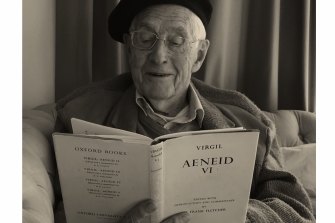 As director, he naturally wrote many memos. Some of those heading for radio management at Broadcast House nearly steamed up – he was locked in a battle for funds, facilities, airtime and staff. His colleague Ron Blair quotes him as saying, "The difference between ABC and BBC management is that they have a higher form of nong."
Loading
Front and center of Connolly's mind was his large family. With his first wife Jennifer, he had eight children: Christopher, Helen, Jeremy, Antony, Katie, Camilla, Polly and Suzy, and one son, Hugh, with his second wife Cynthia.
There could be no better epitaph for Richard Connolly than the first two lines of his oft-sung hymn: "Where there is charity and love, there dwells the love of God."
Rodney Wetherell
The Morning Edition newsletter is our guide to the most important and interesting stories, analysis and ideas of the day. register here.