By JAN LARSON McLAUGHLIN
BG Independent News
Sonya Zielinski thought Saturday would be a good day for a bike ride.
So 10 of his family and friends had a few beers and then rode the new BG Pedal Company party bike to Bowling Green.
With the company's driver behind the wheel, cyclists were free to sip while riding through the city streets. They cycled – or not – with the battery-powered bike taking over.
The bike, which tops out at 7mph, slowly maneuvered around the city, starting on Hankey Avenue and then pedaling down Pearl to Church. In this case, the runners brought their own music playlist. As they passed the downtown building, they shouted 'I like it, I love it. I want more", with Tim McGraw.
Motorists patiently waited for opportunities to pass the bike, and the driver would stop when possible to allow vehicles to pass.
The bike and its passengers were greeted with smiles and waves by pedestrians, porch keepers and corn horn players. This left Starship food delivery robots in the dust.
The biggest "challenge" came when the party bike approached the Ridge Street crossing.
"Oh my God – a hill," shouted one of the passengers.
The bike turned onto Thurstin, then Wooster, heading for the first drink and bathroom break at Quarter's.
"I love it," Zielinski said at the bike's first stop. She won the ride through a raffle, but said she would be willing to pay for future trips on the party bike. "I would definitely do it again. This is very fun."
Along for the ride was his son, Michael Zielinski, 26.
"I've always wanted to try one," he says. "It's a different experience. I love it." And just in case potential participants were wondering, "You don't have to pedal if you don't want to," he said.
Last weekend was the second for the Bowling Green Pedal Company to be in business.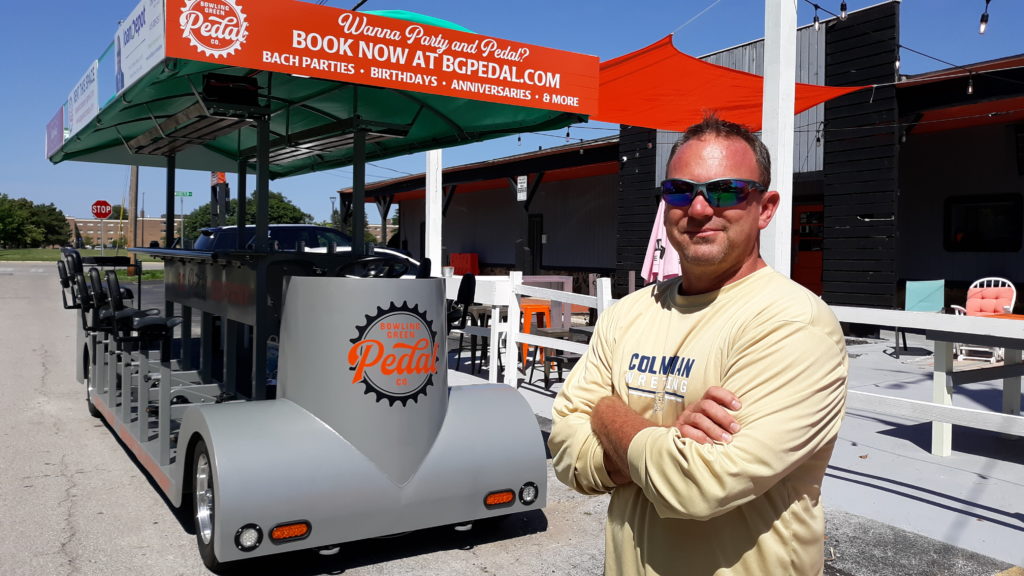 "It's starting to get bigger. We're starting to get reservations," said Joe Steinmetz, who started out riding a party bike similar to Tiffin, and decided to bring a pedal business here to Bowling Green.
The bike – equipped with 10 adjustable bike seats and bench seats for four more – cost around $65,000 to build.
The service can be hired for blocks of two hours, up to a maximum of 14 people. Early in his description of the bike to Bowling Green City Council, Steinmetz pointed out that typical customers won't be students. Although there may be pub crawls and bachelor/bachelorette parties, the bike will likely be rented for children's birthdays, anniversaries and retirement parties.
The bike will cross the neighborhoods and the city center.
"Our routes are generally smooth," Steinmetz said.
Plans are underway for some themed rides, such as ice cream spins, historical tours, or stops to view murals. Steinmetz outfitted the vehicle with a TV screen for racers reluctant to stray away from the big games.
During Saturday's ride, a customer asked if the bike could make garage sale stops.
"We can do it," Steinmetz said. "We have room for a small couch here."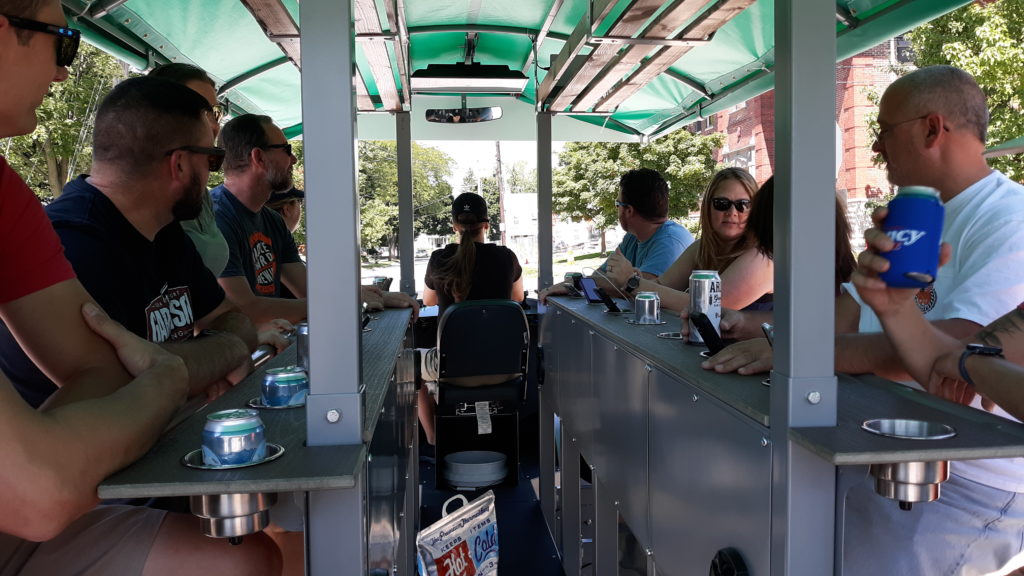 Riders are allowed to bring food, plus up to 36 ounces of beer or 18 ounces of wine. Drinks are not sold on the bike, but riders can restock when the bike stops at bars or restaurants.
The rider stays sober throughout the ride of the bike.
"It's a ton of fun," said pilot Miriam Justinger, who is an alumnus of the BGSU women's basketball program. "Basically, you can just hang out and socialize with all kinds of people."
Justinger can adjust the resistance for runners – so those who want to train can get one, and those who don't can take a break.
"Luckily Bowling Green is pretty flat," she said.
So far, the presence of the party bike on the streets of the city has not been a problem for motorists.
"I know that's one of the biggest concerns," Steinmetz said. But bike drivers are trained to allow motorists to pass when possible.
Bike rental fees for two hours are $350 on weekends and $275 on weekdays. Tours depart from Arlyn's Good Beer at 520 Hankey Ave.
More details can be found and reservations can be made at: https://bgpedalcompany.com/.