Content of the article
This is the original Playbill.
Content of the article
The ongoing winter pandemic moved ahead of Sound of Music's scheduled performance at the Aultsville Theater in February, so the Seaway Valley Theater Company (SVTC) pivoted to Plan B, offering Nunsense instead, in its relatively new theater on Sixth Street East in Cornwall.
So that shift had local scene veteran Lacie Petrynka in the director's chair, and when Nunsense ended, she got to rest. Well, maybe a few minutes.
"I was tired," Petrynka said, recounting how Nunsense wasn't exactly a small production.
"It's basically a musical in a smaller venue," she said, and Nunsense had just finished its run when the casting call went out for SVTC's spring comedy, There Goes the Bride, which opens Friday.
Yes, Petrynka is directing this one too, but it's a piece of wedding cake because she has her sister on board.
"Yeah basically we're sisters, I consider her one," said There Goes the Bride co-director Melanie Samis (no relation to Petrynka). "(Lacie is) the reason I got into acting."
Samis remembers it well. This was Glen Productions Evita's offer over 20 years ago, and Petrynka persuaded her to get involved.
"I couldn't bear to audition," said Samis, who found the courage to get involved behind the scenes. She helped with costumes and other behind-the-scenes chores – and loved it.
In fact, Samis went on to study theater at the University of Ottawa and has been involved in many SVTC productions over the years, including directing Peter Pan which was performed at the Aultsville Theatre.
Content of the article
She choreographed for Nunsense earlier this winter, and now Samis and Petrynka are co-directing for the first time.
It continues to be a good partnership; Samis is running an adult show for the first time, but is working with someone she considers Cornwall's 'prank queen'.
The prank queen herself said, "We both have our own vision, but when we come together, it works wonders."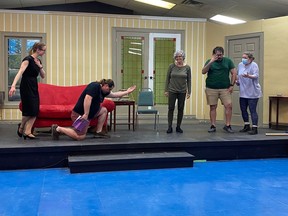 There's another interesting relationship on set: Director Petrynka is married to actor Mike Petrynka, who plays male lead Timothy Westerby.
"It went well," Lacie Petrynka said. "And he's directed me (in productions) in the past, it's nothing we haven't done before."
In fact, many years ago when the two were dating, Lacie played Polly when Glen Productions staged There Goes the Bride, and "I drew (Mike) onto the show," he said. she declared. He was playing Bill's best friend at the time.
It's a cast of eight who will act out nine times, and he's overworked, underpaid, stressed Westerby worrying about his daughter's upcoming wedding – a ceremony he thinks is too lavish and expensive.
Ripe for a nervous breakdown, Westerby has one on the morning of the wedding, in the form of Polly, a gorgeous girl who just wants to give herself to him.
The problem is that it is only an hallucination. It's not easy for Timothy, who is convinced Polly is totally real and is thrilled to have such a sexy guest on the big day.
Content of the article
The prank ensues as the other guests – including his wife – aren't as enthralled by the situation.
SVTC in Cornwall presenting the musical Nunsense, from February 11

SVTC in Cornwall presenting the musical Nunsense, from February 11

The Seaway Valley Theater Company will be performing on August 27
Show dates and times at the Seaway Valley Theater at 30 Sixth St. East are May 13, 14, 20, 21, 27, and 28 at 7:30 p.m. There are matinees at 1:30 p.m. on May 15, 22, and 23 may.
Reserved seating is $25, advance tickets are available online through The Ticket Wicket or by phone at 613-933-3998.
Seating will also be available at the door starting one hour before curtain time. COVID-19 protocols will be followed on site.
There Goes the Bride is produced by special arrangement with Concord Theatricals on behalf of Samuel French, Inc.