With Little Mix having set a precedent for powerful women in music before going on hiatus, we're ready to see a new generation of girl power dominate the charts. And we may have found the girls to do it.
Type: SVN. SVN, an all-new seven-piece girl group, is formed from the original cast of the award-winning SIX stage production The Musical. Each with successful acting careers, members Aimie Atkinson, Alexia Mcintosh, Grace Mouat, Jarneia Richard-Noel, Maiya Quansah-Breed, Millie O'Connell and Natalie May Paris have now joined forces to storm the world of pop.
Today, we catch up with the girls ahead of their first-ever hit show in London to talk about their infectious new self-penned track Free, dreams of collaborating with Max Martin and supporting the LGBTQIA+ community.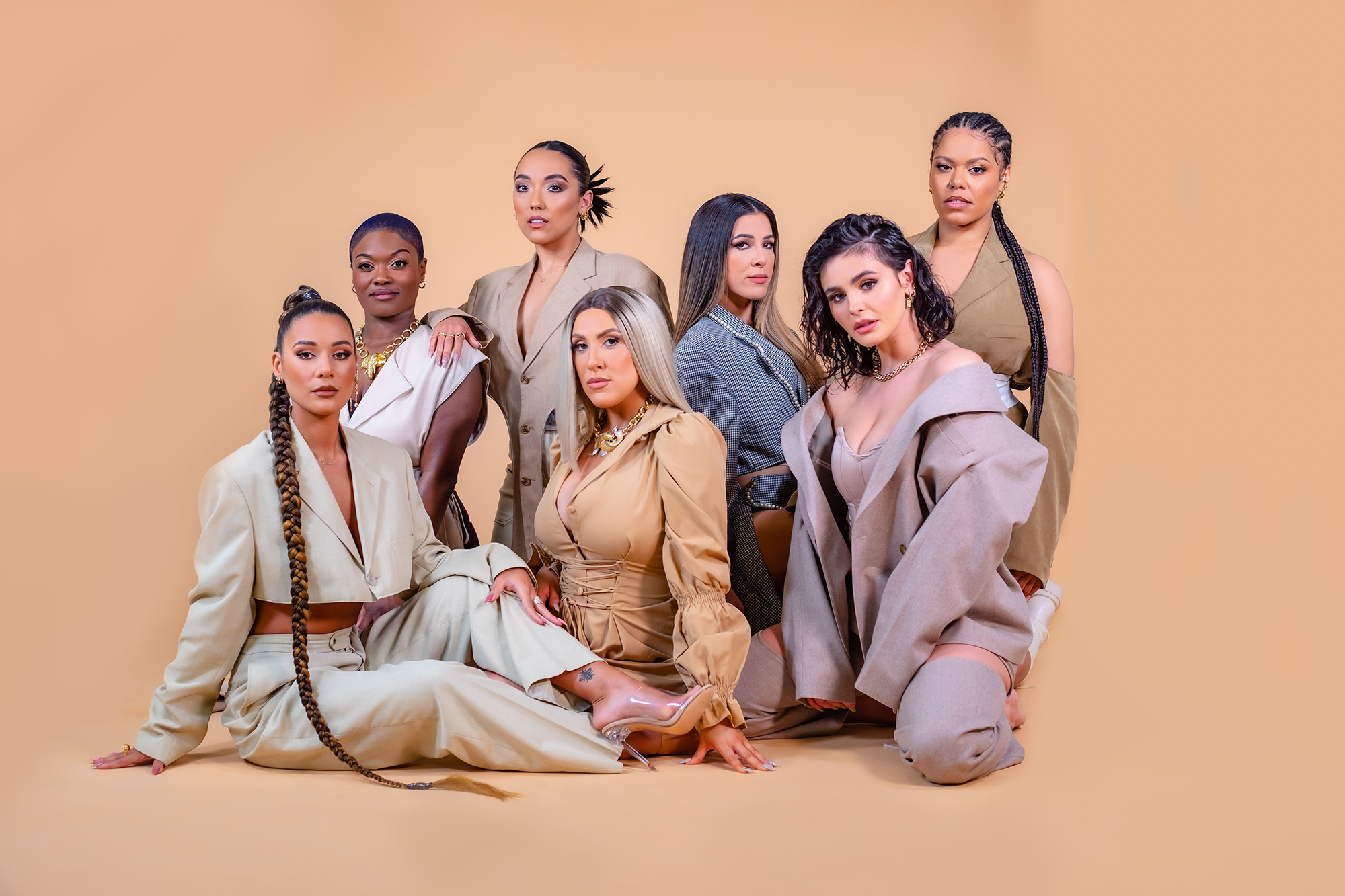 MORE: Facts you never knew about Girls Aloud
SVN, hello! We are big fans of SIX The Musical and to like the concept of this group. Who had the idea to form a group of girls?
Maiya: It was Alexia!
Aimie: Years ago when we opened the musical in Edinburgh, Alexia said 'we have to be a girl band, we have to do this for real'. We were like 'yeah, whatever Lexie!'
Maiya: She said it constantly, she kept pushing for it. Then, during lockdown, Aimee messaged us and we were all free for the first time. Aimee brought us together in a group chat and asked us how we would feel about doing a show. We managed to set it up with a live, socially distanced audience and broadcast it live.
Aimie: It was crazy, it was the first time we did anything together outside of SIX. It was so cool and so overwhelming to know that people wanted to see us as we, not just characters. We had the best time!
What do you represent as a group?
Aimie: We don't write songs about the pursuit of love, our songs are about love yourself. The message is to love yourself; be yourself.
This is such an important message to convey. With Little Mix on hiatus, we need a band to uphold this philosophy…
Maiya: They paved the way. I love Little Mix and the legacy they left behind. I'm already excited for the return.
Your last track Free is also the embodiment of self-esteem…
Aimie: We wanted to write a song that said "be whoever you want". It's a message deeply rooted in us as a group. When we first got together, we didn't even know if we could write songs, but the process worked.
Natalie: We've always said we wanted to write uplifting and uplifting songs that touch so many different communities. It's so important to us. The writing came naturally and we really hope we can inspire everyone.
Grace: With Free, it's not just girl power. We also love all of our followers from the LGBTQIA+ community. All of our non-binary and trans fans. We wanted to keep them in everything we do. We are inspired by anyone who lives as their authentic self; there is nothing more beautiful than that. Being you is the best thing. Being you is enough.
Which artists do you dream of collaborating with?
Grace: I was recently in the musical & Juliet, which is written by and based on music by [Swedish pop producer] Max Martin. He is an absolute icon, and also the most beautiful human in the world. Max, if you're reading this, we want to do a song with you! If we could collaborate with him, that would be so cool.
You're playing your very first headlining show in London on August 7, which must be a huge to-do list moment. What other goals do you want to achieve as an SVN?
Aimie: We're so excited to keep going into the studio and keep writing, that's the most important thing for us. So next year we want to play everything celebrations.
Natalie: We just want to keep creating. We recently spent an entire week together in the studio, writing and creating, and it was amazing. It's so special. Because we did all SIX shows together, we know and respect each other so well. We know each other's strengths and what each of us brings to the group. It's like a puzzle, we fit together!
MORE: Everything you need to know about new girl group FLO
You can catch SVN perform at their first show at London's O2 Academy Islington on Sunday August 7th. Tickets are available here.
SVN's latest FREE single is out now.