By Ed Symkus
Music enthusiast turned record producer shares his indelible memories of life on the road and in the studio, working with artists including Sleepy LaBeef, Irma Thomas, James Booker, Solomon Burke, Buckwheat Zydeco and Ruth Brown.
Making Songs: A Record Producer's Musical Journey to Southern Roots by Scott Billington. University Press of Mississippi, 321 pages, $25 (hardcover)
Full disclosure: I've known Scott Billington for a long time, dating back to our days working together in New England Music City, when new album releases on the front wall included John Lennon To imagineCarole King's Tapestryand the soundtrack by Isaac Hayes for Tree.
While I was one of the general rock experts at the record store, Scott was a fountain of blues knowledge. He educated me in the genre, with introductions to albums by Little Walter, Willie Dixon, Magic Sam, and more. If clients asked me for something nice by Skip James or Son House or Sister Rosetta Tharpe, I referred them to Scott.
Sure, spending eight hours a day in a record store will broaden your musical horizons, and Scott's were wide, but he was — and still is — focused on the blues. He also happens to be quite the blues harp player. Add to that his post-Music City experiences at Rounder Records – first as a sales rep, then album cover designer, then art director, then in what turned out to be his sweet spot, as as producer. Now he's written the blues-centric book Making Songs: A Record Producer's Musical Journey to Southern Roots.
The book proves he has a great memory for detail, is a terrific storyteller, and has worked with more than a few big-name musicians over the past four decades. Among them were Sleepy LaBeef, Irma Thomas, James Booker, Solomon Burke, Buckwheat Zydeco and Ruth Brown, each of whom made records they produced, which are discussed in make tracks.
The title is a wonderful double meaning, in that the book presents a series of reminiscences of the songs – the tracks – produced by Billington, and it documents his time on the road – making tracks – driving from town to city ​​across the South to meet, get to know and create music with these people.
From the start, he wrote that "the craft of record production is to use the studio in an invisible way, so that nothing distracts from the feeling and the art". It makes it sound like the volume could be a dry, detailed account of what goes on in a recording studio, but the book is anything but.
Because Billington tells it all in first person, he maintains an anecdotal and conversational style, and keeps things light and airy. He explains that part of his job as a producer is to hire musicians to complement the artist he's recording, bring in songs he thinks would be suitable for particular artists, and find someone to arrange. these songs. He also gives brief stories about – and insights into – the musicians, and recounts what he remembers from his sessions with them.
There are offbeat tales of the unpredictability of rockabilly king Sleepy LaBeef – on stage as well as behind the wheel of his Cadillac – and of blues belter Solomon Burke's penchant for selling pork chops backstage at some of his shows. Billington shares some admiring thoughts. Of blues pianist James Booker, he writes: "He was the Vincent van Gogh of New Orleans – a brilliant, troubled artist who was not fully appreciated until years after his death – and the only person I met who might have been what we call a genius." And he notes instances where things didn't go as he had hoped, like the time Dizzy Gillespie sat down for a recording with the Dirty Dozen Brass Band "Dizzy seemed tired," he wrote. "I kept trying to steer the session towards something more concise. It was not easy, on so many levels, to give direction to Dizzy Gillespie… At the end of the session, we were discouraged. We had no usable runway.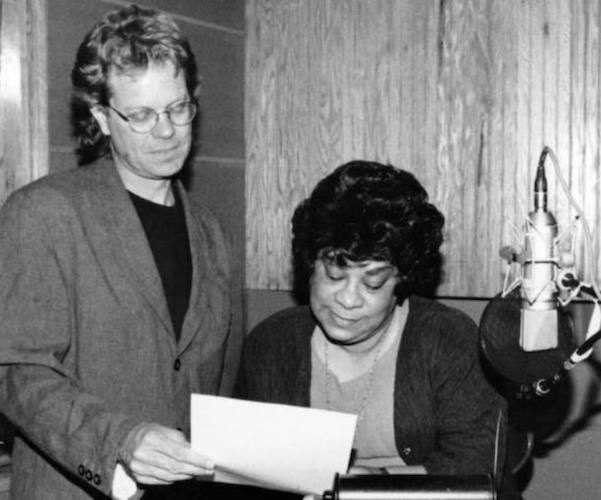 But the book is not limited to music. Much of it comes as a beautifully written travelogue, with detailed descriptions that give you an idea of ​​the location and history. In a reference to the rural area outside the towns of Lafayette and Lake Charles in southwestern Louisiana, Billington observes that its "many inhabitants raise, cultivate, trap, or catch at least some of their supply food, the legacy of a subsistence culture that has not entirely disappeared. In the flat "Cajun prairie" around Eunice, rice paddies are flooded and turned into crawfish ponds in winter, while cattle graze in large fields. »
The only complaints I have with make tracks are that Billington waits until the conclusion to discuss his early experiences at Rounder Records, when information like this might have served a greater purpose in the beginning; and that a few chapters towards the end — one on zydeco music, another on rhythm and blues — border on overlooking some lesser-known artists whose stories seem just as interesting as those who received more coverage.
But those are minor complaints, and they're more than made up for by Billington's fond and detailed recollections of a rewarding career and the people who were part of it. One of my favorites is his recollection of a 2019 visit to the Sam Phillips recording studio in Memphis: "I was invited to see Sam's office and office upstairs, with a formica top kidney-shaped, with cigarette burns that could have been done by anyone from Charlie Rich to Johnny Cash.
---
Ed Symkus is a Boston native and a graduate of Emerson College. He has been to Woodstock, is a fan of Harry Crews, Sax Rohmer and John Wyndham, and has visited the Outer Hebrides, Lofoten Islands, Anglesey, Mykonos, the Azores, Catalina, Kangaroo Island and the Isle of Capri with his wife. Lisa.