Tobie Sammet is back with passion, magnificent energy and a musical monument of epic depth. A paranormal evening with the moonflower company Brands AVANTASIAninth album from and will be released on October 21st2022 through Nuclear explosion. Pure magic, mesmerizing listeners with the combined artistry of metal, classic rock, and whatever other ingredients needed to be AVANTASIA. No one puts more blood in their songs than AVANTASIA Is.
Tobie Sammet about the new album: "From the early song ideas in 2018/2019 to the production, orchestration, keyboards, arrangements, details, I was personally involved so deeply in every little aspect and detail of this album, that you just can't get an album more personal or closer to my vision than this one. I had time, nothing else to do for the past two and a half years, it was a life of slow motion with music and my studio Mysteryhausen serving as a portal to another world, full of music and original encounters with my muses keeping me sane and hopeful. I'm super proud of the album, some of my best songs, some of my most emotional and extreme vocal performances, some of the the best guest performances ever. I couldn't be happier with the result and when you hear it you'll know why!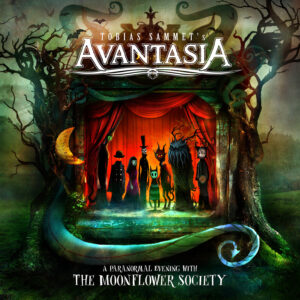 A paranormal evening with the Moonflower Society features eleven magical and powerful songs featuring many prestigious guest stars. An adventure that captivates audiences with freshness, liveliness, sophistication and enchantment.
Get a taste by watching the lyric video for the first single from the upcoming new album "The Wicked Rule the Night" with PRIMARY FEAR leading man, Ralf Scheeper.

The album was produced by Tobie Sammet with AVANTASIA guitarist Sascha Paeth.
The cover illustration was made by a Swedish illustrator Alexander Janson.
A paranormal evening with the Moonflower Society
List of tracks:
1. Welcome to the shadows
2. The wicked rule the night
3. Kill the pain
4. The most intimate light
5. Lost Among Angels
6. I tame the storm
7. Paper Airplane
8. The Moonflower Society
9. Rhyme and Reason
10. Scars
11. Arabesques
Playing time: 53:58min
AVANTASIA Direct
24.06. ES Cartagena – Rock Imperium Festival
30.06. ES Barcelona – Rock Fest
08.07. FI Tampere – Outdoor Sauna
09.07. FI Oulu – Rock in the city
11.07. NOT from Oslo – Sentrum Stage
13.07. SE Gävle – Gefle Metal Festival
21.07. FROM Fulda – Domplatz
23.07. CH Pratteln – Z7 Summer Nights
03.08. DE Wacken – Wacken Open Air
04.08. DE Ludwigsburg – KSK Music Open
19.08. CZ Moravsky Krumlov – Rock Castle
26.08. FROM Coburg – Schlossplatz
03.09. DE Gelsenkirchen – Nine Lives Open Air Festival
More information:
www.tobiassammet.com
www.facebook.de/avantasia
www.nuclearblast.de/avantasia